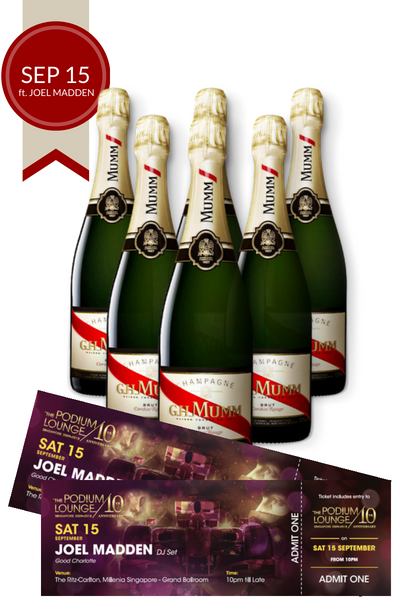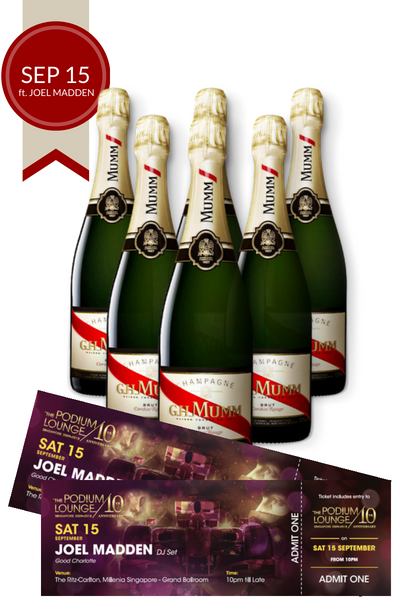 6 x G. H. Mumm Cordon Rouge NV Bundle plus 2 discounted tickets for Podium Lounge SATURDAY 15 Sep ft JOEL MADDEN
Description
The Saturday after-party at the Podium Lounge will be INSANE. DJ Joel Madden of the band Good Charlotte will be on-hand for a spectacular set.

Get your hands on this exclusive bundle of six bottles of G. H. Mumm Cordon Rouge champagne to start the night off right.

Joel Madden is not only the co-founder and frontman of the multi-platinum rock band Good Charlotte, but a pillar in the global music community both in front of, and behind the the scenes. Joel Madden is a multi-talented personality, actor, DJ and record producer.

As a fixture on The Voice in Australia for all five seasons he coached emerging talent and with his management company MDDN he works with a roster of high profile clients and exciting new acts. He has also featured in TV series 'Empire' a show based on musicians. Joel Madden also has a clothing line known as MADE Clothing which he started with his brothers

With a resume that spans over 20 years in entertainment, Joel Madden co-writes with some of the biggest names & producers and involvement in all facets of the culture, Madden is a lifer in the game.
Included in This Bundle
2 x 1 x Sat Discounted Tix 15/09 Podium Lounge w/ DJ Joel...

0ml

SATURDAY 15 SEPTEMBER JOEL MADDEN DJ SET (Good Charlotte) Joel Madden is not only the co-foun...

6 x G. H. Mumm Cordon Rouge NV

750ml

Out of Stock

The house's signature cuvée : it perpetuates a hallmark style of subtly balanced freshness and in...
---