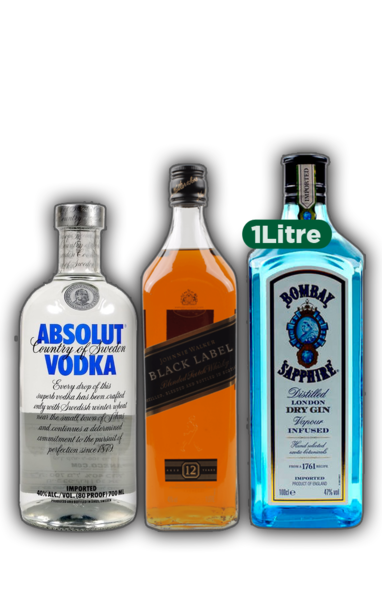 Paneco.com Party Bundle #1
Description
Not sure what to buy for your upcoming affair? Save the hassle and pick up this handy bundle featuring one vodka, gin and scotch whisky.
Included in This Bundle
1 x Bombay Sapphire 1L

1000ml Extra 43%

Out of Stock

The Bombay Sapphire Gin is a strong beverage (47% alcohol) suitable for drinking neat or for cock...

1 x Johnnie Walker Black 750ml

750ml

Out of Stock

Johnnie Walker Black Label, otherwise known as "Johnnie Black", is one of the most popular premiu...

1 x Absolut Blue 750ml

750ml

Few brands are as iconic as Aboslut vodka. First launched in 1879 in Sweden, it was catupulted to...
---