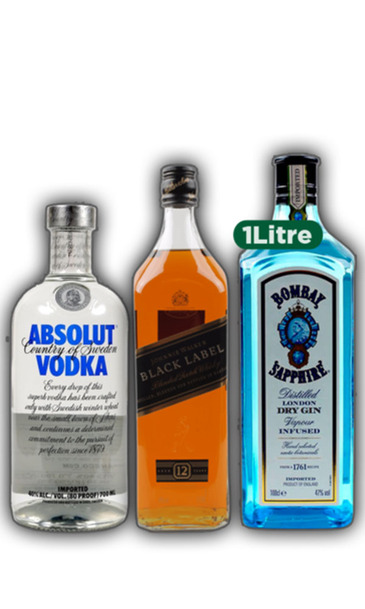 Paneco.com Party Bundle #1
Paneco.com Party Bundle #1

$177.70

$195.85
FREE next-day delivery
Included in This Bundle
1 x Absolut Blue 750ml

750ml

Out of Stock

Few brands are as iconic as Aboslut vodka. First launched in 1879 in Sweden, it was catupulted to...

1 x Johnnie Walker Black 750ml

750ml

Out of Stock

Johnnie Walker Black Label, otherwise known as "Johnnie Black", is one of the most popular premiu...

Extra 43%

1 x Bombay Sapphire 1L

1000ml Extra 43%

The Bombay Sapphire Gin is a strong beverage (47% alcohol) suitable for drinking neat or for cock...
Description
Not sure what to buy for your upcoming affair? Save the hassle and pick up this handy bundle featuring one vodka, gin and scotch whisky.
---