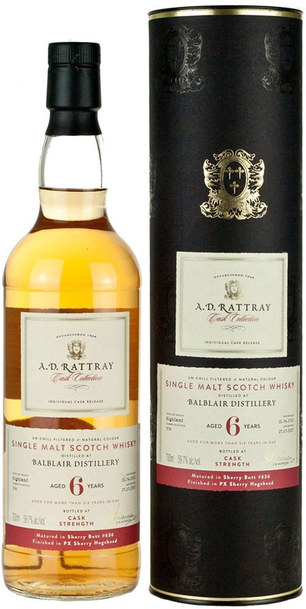 Balblair 6 Year 2011 (A.D. Rattray) 700ml w/Gift Box
Balblair 6 Year 2011 (A.D. Rattray) 700ml w/Gift Box

$120.60

$142.00
FREE next-day delivery
Description
Established in 1790, Balblair is an esteemed distillery in Scotland. This Highland whisky is known for having the year it was bottled listed according to the master distiller's expert opinion.
This version of the 2011 Balblair was independently bottled by A.D. Rattray. Founded in 1868, this bottler has been maturing whisky for generations. Only 306 bottles were made.
The Balblair 2011 was distilled in June 2011 and initially matured in a sherry butt. It was finished in a Pedro Ximénez sherry hogshead before being bottled in October 2017.
---
Expert Review
"LOOKS: Gentle bronze.

NOSE: Rich toffee, ripe summer berries and old ale.

PALATE: Sticky plum jam, dried apricots and red apples.

FINISH: Hints of cinnamon and apple. A late summer, mixed berry fruit crumble."
---