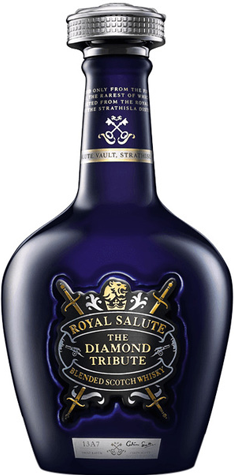 Chivas Regal Royal Salute Diamond Tribute 700ml w/Gift Box
Chivas Regal Royal Salute Diamond Tribute 700ml w/Gift Box

$388.00

$480.00
FREE next-day delivery
Description
In June 1953, the very first batch of Royal Salute was bottled by our original master blender, Charles Julian, to commemorate the Coronation of Her Majesty Queen Elizabeth II.
Sixty years later, as we gathered in the Tower of London's Queen's House before the guns roared to mark the 60th anniversary of HM The Queen's Coronation, Colin Scott was able to share with the assembled guests the first glass of a new whisky gem that he had blended especially for the occasion: Royal Salute The Diamond Tribute. A jewel of outstanding purity and exquisite taste, Royal Salute The Diamond Tribute is an incomparable blend inspired by the flawless perfection of a diamond.
This ultimate expression of the Master Blender's art celebrates the preciousness of eternal bonds. Royal Salute The Diamond Tribute has been crafted from an exclusive collection of whiskies, the rarest of which have been selected from the Royal Salute Vault at Strathisla, the oldest working distillery in the Highlands of Scotland.
---
Expert Review
"Legendary among whisky connoisseurs, the Royal Salute Vault is home to the rarest and most precious casks, carefully locked away to mature for a minimum of 21 years"
---