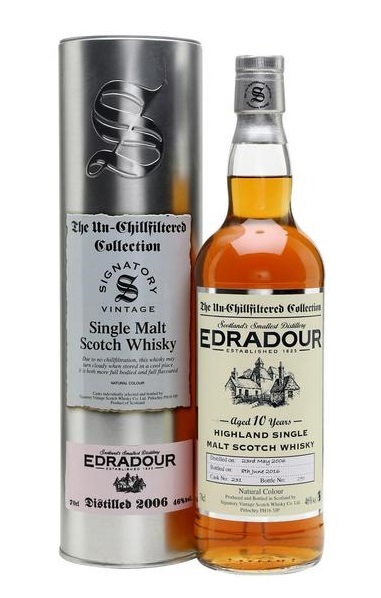 Edradour 2006 10 Year Un-Chillfiltered 700ml Signatory Vintage w/Gift Box
Edradour 2006 10 Year Un-Chillfiltered 700ml Signatory Vintage w/Gift Box

$140.00

$154.00
FREE next-day delivery
Description
The unchillfiltered version of the 10 Year Old, traditionally bottled, no colour added and a little stronger at 46% ABV.
Due to no chillfiltration this is both more full bodied and full flavoured. This whisky may turn cloudy when stored in a cool place but does not affect the flavour in any way.
This is a Signatory Vintage bottling (the independent bottler is based at Edradour Distillery) and is labelled with date of distillation, cask number, bottle number and bottling date. This is a Single Oloroso Sherry cask bottling.
Unchillfiltered • Natural Colour • Distilled, Matured and Bottled at Edradour • Handmade in Scotland
---
Expert Review
"Nose: Rich, spiced fruit cake and roasting nuts

Palate: Red berry fruits, spiced sultanas, maple syrup and almonds combine deliciously. A hint of Dolly Mixtures. The presence of fine oak Oloroso casks provide a backdrop of great depth and fullness. The rich mouth feel that comes from the smallest traditional stills in Scotland is even more apparent

Finish: Creamy oak, mild warming spices with a calming nature"
---