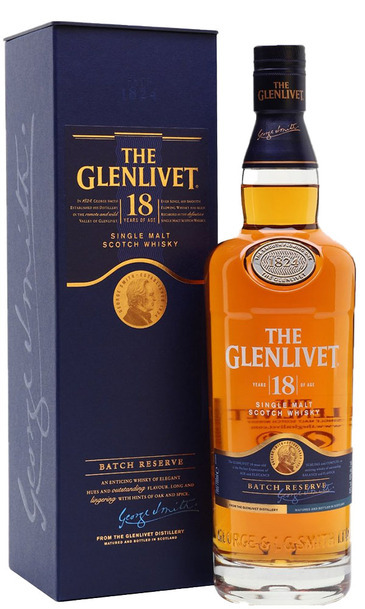 Glenlivet 18 Year Single Malt 700ml w/Gift Box
Glenlivet 18 Year Single Malt 700ml w/Gift Box

$166.00

$193.00
FREE next-day delivery
Description
The 18 Year Old has won more awards than any other expression; every bottle is a true example of the quality and taste of The Glenlivet. Any bottle deserves pride of place in your cabinet… perhaps to be held back for a fitting occasion? It is, after all, crafted to impress.
---
Expert Review
"Over the course of 18 years Glenlivet's Master Distiller, Alan Winchester, takes this expression through a combination of cask types, including both first and second-fill American oak (for tropical fruitiness) and ex-sherry oak (for spicy complexity). The result of this deft navigation of the distilling arts is a gorgeous single malt that is complex, yet elegant and balanced."
---
Distillery
"The Glenlivet distillery is near Ballindalloch in Moray, Scotland that produces single malt Scotch whisky. It is known to be the oldest legal distillery in the parish of Glenlivet, and the production place of the Scottish whisky of the same name. It was founded in 1824 and has operated almost continuously since the distillery remained open throughout the Great Depression and its only closure came during World War II.
The Glenlivet brand is the biggest selling single malt whisky in the United States and the second biggest selling single malt brand globally."
---