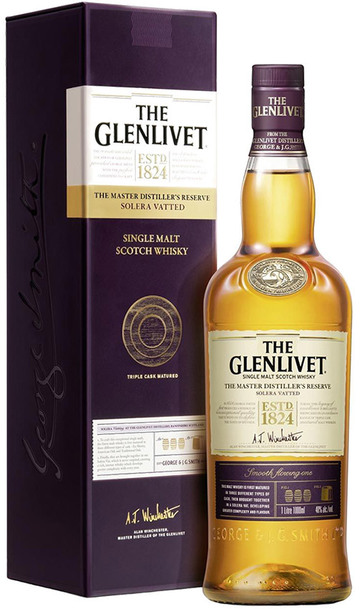 Glenlivet Master Distiller's Reserve 1L Solera Vatted w/Gift Box
Glenlivet Master Distiller's Reserve 1L Solera Vatted w/Gift Box

$118.00

$133.00
FREE next-day delivery
Description
Spending time in the Solera Vat is what gives this expression in the signature The Glenlivet Master Distiller's Reserve range its truly exceptional character. Alan Winchester, their Master Distiller, first triple cask matures the spirit in traditional oak, American first-fill and ex-sherry casks. He then selects the best of these casks to transfer to the Solera Vat. The vat, which is never emptied, creates a rich whisky that develops in intensity and complexity every year. The high concentration of first-fill American oak adds creaminess, soft fudge and vanilla to the spirit. But it's the nose that grabs you – it bursts with the smell of ripe orchard fruits alongside gentle caramel notes. It's luxurious to taste, with a honeyed sweetness and the distinct presence of juicy pears. It's a whisky that's packed with flavour. The Master Distiller's Reserve collection is a rare treat, only available in Singapore at Paneco.com.
---
Expert Review
"The Master Distiller's Reserve range is a collection of exceptional single malt whiskies that marries the craft of the cask and the craft of flavour.

CASK: Traditional, First Fill American and ex-Sherry Oak casks, brought together in the Solera Vat

FLAVOUR: Rich, intense, honeyed sweetness"
---
Reviews From Real Customers
Said
Good for nose but not very smooth
6 Aug 2018
Good for nose but not very smooth for the palate. Overall good scotch.