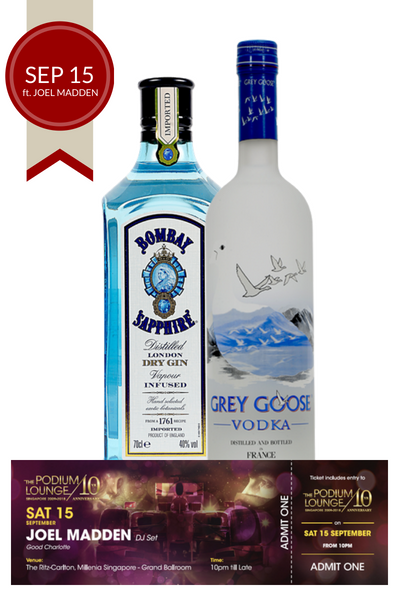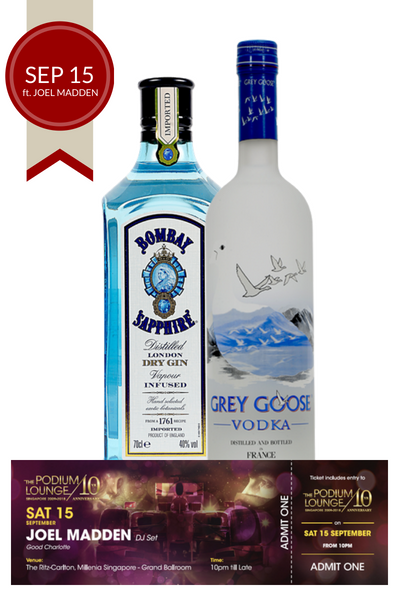 Podium Lounge Pre-Party Bundle plus 1 discounted ticket for Podium Lounge SATURDAY 15 Sep ft DJ Joel Madden
Description
Vodka and gin are two excellent choices to fuel your party. They go great with a variety of mixers and are extremely versatile. In this case, Grey Goose is a super premium vodka and Bombay Sapphire is a super premium gin. Perfect compliments for your discerning tastebuds.

Combine with with a REDUCED PRICE ticket to this year's hottest F1 afterparty, and you've got a great deal.

Joel Madden is not only the co-founder and frontman of the multi-platinum rock band Good Charlotte, but a pillar in the global music community both in front of, and behind the the scenes. Joel Madden is a multi-talented personality, actor, DJ and record producer.

As a fixture on The Voice in Australia for all five seasons he coached emerging talent and with his management company MDDN he works with a roster of high profile clients and exciting new acts. He has also featured in TV series 'Empire' a show based on musicians. Joel Madden also has a clothing line known as MADE Clothing which he started with his brothers

With a resume that spans over 20 years in entertainment, Joel Madden co-writes with some of the biggest names & producers and involvement in all facets of the culture, Madden is a lifer in the game.
Included in This Bundle
1 x 1 x Sat Discounted Tix 15/09 Podium Lounge w/ DJ Joel...

0ml

Out of Stock

SATURDAY 15 SEPTEMBER JOEL MADDEN DJ SET (Good Charlotte) Joel Madden is not only the co-foun...

1 x Grey Goose 1L

1000ml Extra 33%

Each batch of Grey Goose vodka begins with soft winter wheat grown on farms in and around the fer...

1 x Bombay Sapphire 1L

1000ml Extra 43%

The Bombay Sapphire Gin is a strong beverage (47% alcohol) suitable for drinking neat or for cock...
---
Recommended Products
There are no results that match your search.