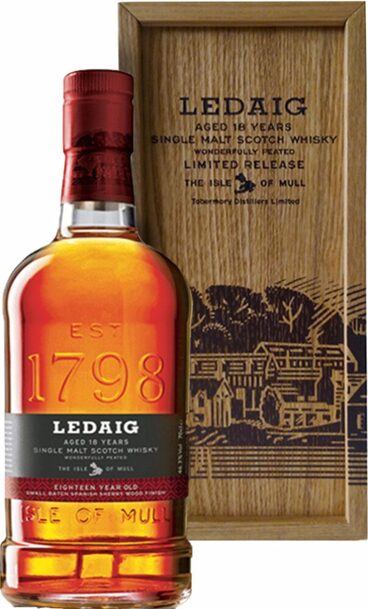 Ledaig 18 Year Single Malt 750ml w/Gift Box
Ledaig 18 Year Single Malt 750ml w/Gift Box

$308.00

$425.00
FREE next-day delivery
Description
A wonderfully smoky island Single Malt which balances sweet and floral fragrance with the richness and warmth of sea salt and smoke.
This 18 Year Old Ledaig represents the rebirth of the style of malt whisky that would have originally been produced at the distillery.
This coveted, peated Hebridean style Single Malt Scotch Whisky balances rich and fruity, sherried smokiness with seaweed and light creosote that allows for a long and quite pungent finish with more smoke and a hint of liquorice and sea spray.
---
Expert Review
"LOOKS: Copper Gold.

NOSE: Rich, fruity sherried smokiness, lovely balance of phenols, seaweed and light creosote, dried chilli flakes, spicy black pepper with hints of sweet oakiness.

PALATE: Powerful rich, sherried, herbal smoky flavours, orange peel, coffee, a touch of sea salt, tobacco and white pepper.

FINISH: Long and quite pungent with more smoke, a hint of liquorice and sea spray."
---