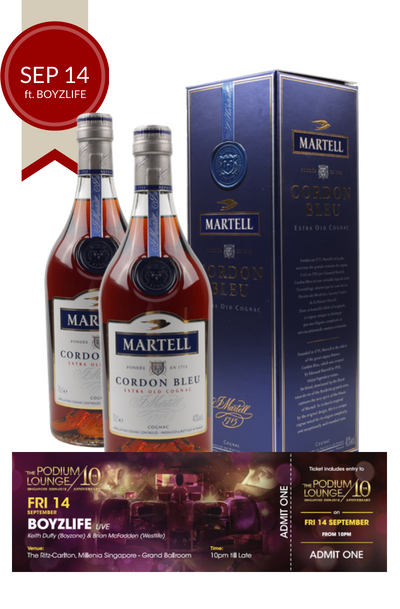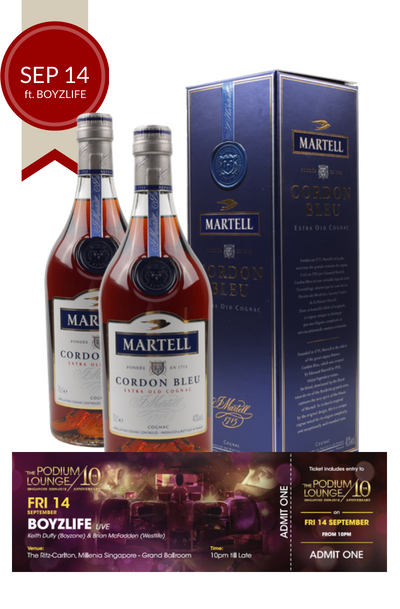 2 x Martell Cordon Bleu w/ Gift Box w/ 1 discounted ticket Podium Lounge FRIDAY 14 Sep ft BOYZLIFE
Description
A masterpiece made by Edouard Martell in 1912, it is characterised by a taste with notes of candied fruit along with gingerbread. It is a familiar favourite amongst connoisseurs!

2 bottles of the drinkable masterpiece, coupled with a masterpiece experience, which is a single discounted ticket to Podium Lounge at Ritz Carlton Hotel on a Friday night where BOYZLIFE performs LIVE on stage, now how cool is that?

The Boyzlife show is the kind of evening that boy band fans dream of. The event brings together members of two of the biggest boy bands in history, Boyzone and Westlife, to share stories, laughter, and of course, some of the biggest chart hits.

With Westlife, Brian McFadden enjoyed 12 UK and Ireland number ones, including a record breaking seven top spots in a row. The band also boast four number 1 albums and over 30million in total record sales. Since then Brian has enjoyed international solo success, including a UK number 1 with 'Real to Me'.

With Boyzone, Keith Duffy has enjoyed similar success, including six UK number one singles and 16 out of 17 of their first single releases making the top 5. With five number one albums also to their credit, Boyzone achieved worldwide sales of over 25million.

Together, these giants of the pop charts will lift the lid on the highs and lows on their road to stardom and pros and cons of life in the spotlight. The lifelong friends will also perform some of the huge hits that have brought them so much success.

This unmissible Boyzlife show has already been performed across fans in all corners of the world since the pair came together last year, and with the Boyzlife II tour, the story continues, with untold tales and even more classic hits performed by the pair.
Included in This Bundle
1 x 1 x Fri Discounted Tix 14/09 Podium Lounge w/ BOYZLIFE

0ml

FRIDAY 14 SEPTEMBER Boyzlife (Keith Duffy & Brian McFadden) The Boyzlife show is the kind of ...

1 x Martell Cordon Bleu w/ Gift Box

700ml

Created by Edouard Martell in 1912, it is characterised by a taste with notes of candied fruit an...
---