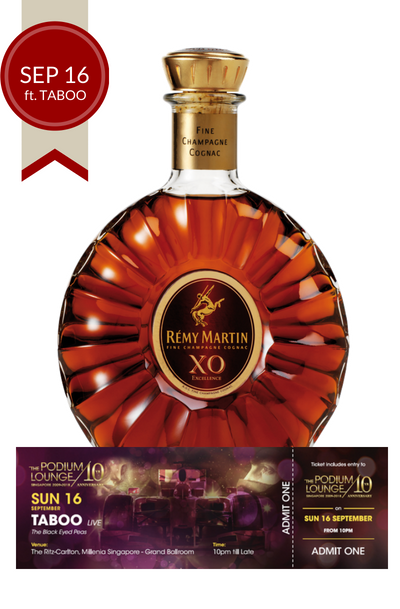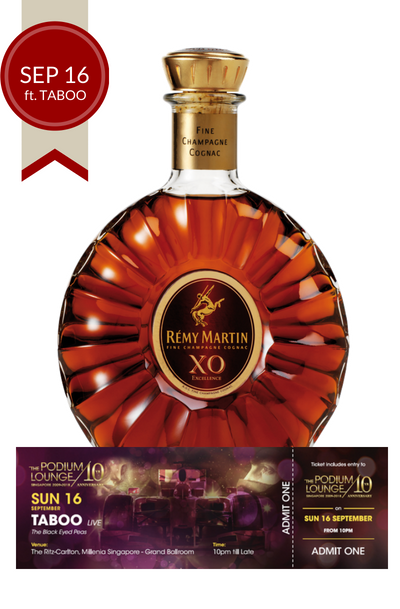 Remy Martin XO Excellence w/Gift Box w/ 1 REDUCED PRICE ticket Podium Lounge SUNDAY Sept 16 w/ Taboo
Description
Rémy Martin XO is the signature of Rémy Martin's Cellar Master who, with his expertise, blends over 400 different eaux-de-vie. His art of blending allows us to express the full aromatic complexity of this XO Cognac Fine Champagne.

It is a fine cognac that offers a wide spectrum of Jasmine fragrance along with the aroma of summer fruits. Not only so, it gives a velvety finish in the palate that is dense and lingering.

This bundle comes with a single discounted ticket to Podium Lounge at the Ritz Carlton Hotel on a Sunday night where TABOO performs LIVE on stage! What's better than having a great party in the right ambience and a brilliant performance at a 5-star hotel?

Taboo is a talented and unique DJ with plenty of experience hosting LIVE PA performances. As well as being a key part of the world famous highly acclaimed R&B and rap group The Black Eyed Peas, a group which has sold millions of albums, he is also a revered DJ in his own right. Growing up with music being played at all times, Taboo is now a worldwide musical sensation who knows exactly what people in the club want to hear, and when they want to hear it. He puts this knowledge to great use, and succeeds in working every corner of a crowd, always filling the dance floor with writhing bodies and smiling faces.

It was back in 1995 that Taboo first got involved in the music scene, initially forming the band The Black Eyed Peas with Will.I.Am. Coming from a breakdancing scene, he has a real grounding in urban beats, meaning club music and associated sounds have always held an important place in his heart. When dropping sets around the world, whether to massive festival crowds or more intimate club dancers, he draws upon the worlds of funk, soul, hip hop and many more genres in order to create a real party vibe. Over the course of his career, he has sold more than 50 million albums around the world and has earned a Grammy for his efforts, and as a DJ he is no less essential.
Included in This Bundle
1 x 1 x Sun Discounted Tix 16/09 Podium Lounge ft. Taboo

0ml

SUNDAY 16 SEPTEMBER TABOO (The Black Eyed Peas) Taboo is a talented and unique DJ with plenty ...

1 x Remy Martin XO Excellence w/Gift Box

700ml

Rémy Martin XO is the signature of Rémy Martin's Cellar Master who with his expertise blends over...
---