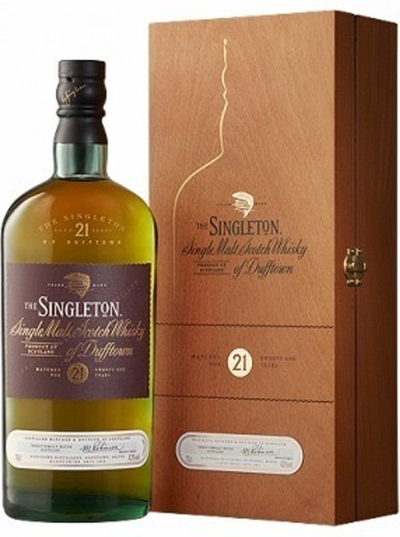 Singleton Of Dufftown 21 Year 700ml w/Gift Box
Singleton Of Dufftown 21 Year 700ml w/Gift Box

$369.90

$419.25
FREE next-day delivery
Description
An exceptional 21 year old expression with sophisticated fruity aromas and flavours of fruit sweets, treacle toffee, fudge and burnt orange, which perfectly complement The Singleton's famous rounded smoothness.
It's sweet and creamy-smooth on the palate with a deliciously long, dry finish.
---
Tasting Notes
Yellow gold

Fruity aromas, honey ginger, toast and sherry-soaked peach slices

Sweet, rich and creamy, with loads of berry fruit, boiled fruit sweets, treacle toffee and burnt orange
---
Distillery
The Singleton of Glen Ord is a whisky distillery in the Scottish Highlands and is the only remaining single malt scotch whisky distillery on the Black Isle.
They produce a 12 year old, 15 year old and 18 year old single malt that's available for export only to Southeast Asia. The Singleton of Glen Ord has also just publicized a cask strength (57.6%avb) 14 year old limited release that's been triple matured in five different casks.
The distillery won awards for the best single malt at the International Wine and Spirit Competition in 1994 and 1996, and at the Monde Selection in 1996 and 1997. However, IWSC and Monde Selection awards are non-competitive and only products that pay to enter are judged.
---