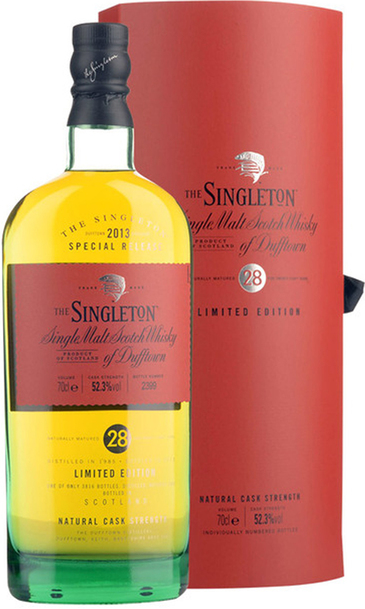 Singleton Of Dufftown 28 Year 700ml w/Gift Box
Singleton Of Dufftown 28 Year 700ml w/Gift Box

$778.00

$1,200.00
FREE next-day delivery
Description
This old fogey is from an actually operational still in Speyside, aged completely in American oak for its 28 years.
---
Expert Review
"Taste Notes

Nose: Reamy fruits (apples, pears, grapes) are mixed with heather honey and a good dose of beeswax. Golden raisins. Soft herbal notes, dried flowers and hints of dusty books. Hints of leather. Vanilla in the distance.

Mouth: oily and sweet. Garden fruits again, with some oranges, raisins and honey. Quite malty (Frosties). Lots of beeswax again. Then some mint, liquorice and nutmeg comes forward, as well as a new wave of herbal notes.

Finish: long, dry, with tons of yellow apples and some pine resin. Also faint hints of smoke."
---
Distillery
The Singleton of Glen Ord is a whisky distillery in the Scottish Highlands and is the only remaining single malt scotch whisky distillery on the Black Isle.
They produce a 12 year old, 15 year old and 18 year old single malt that's available for export only to Southeast Asia. The Singleton of Glen Ord has also just publicized a cask strength (57.6%avb) 14 year old limited release that's been triple matured in five different casks.
The distillery won awards for the best single malt at the International Wine and Spirit Competition in 1994 and 1996, and at the Monde Selection in 1996 and 1997. However, IWSC and Monde Selection awards are non-competitive and only products that pay to enter are judged.
---