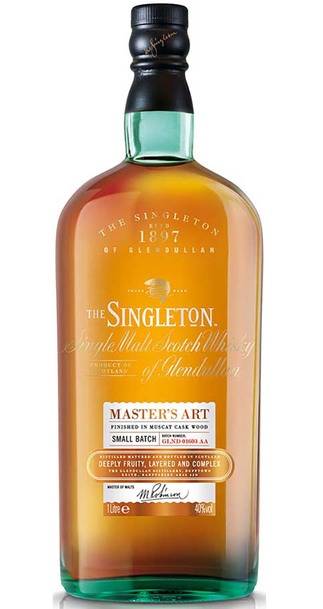 Singleton Of Glendullan Master's Art 1L
| | |
| --- | --- |
| Alcohol percentage | 40.0 |
| Bottle volume ml | 1000ml |
| Brand | Singleton |
| Country of origin | Scotland |
| Gift box | No |
Description
A richer, fruitier Singleton of Glendullan extra matured in specially selected rare Muscat casks that brings a delightful spicy edge, that is richly layered and complex.
Expert Review
Nose: Gentle at first and not over forward. Deep, with a clear top note of spicy wood then beneath this a fine mix of creamy-sweet aromas; treacle, red berries (raspberry, cranberry), rich fudge, biscuits, herbs, butter. There's a Christmassy base of mixed spices and currants with a hint of cinnamon and sweet dried fruit (orange peel).

Taste: A richer, fruitier double-matured Singleton of Glendullan with a delightful spicy edge, that is richly layered and complex. A delightful and more assertive Singleton single malt with plenty of dried mince-pie fruit, hints of spice and an assured, rich sweetness.

Palate: Ripe and richly fruity with balancing spiciness when enjoyed straight. Smooth textured, soft and coating, yet clean too: rich, fruity and racy on the tongue. Starts with a sweet mix of light treacle or golden syrup, fudge and oat biscuits; initially creamy with smooth buttery notes, then fruity (hints of apple and pear, burnt oranges) with sweet dried fruits, and drying. Water brings up more sweet fruit, freshening the fruitiness.
---