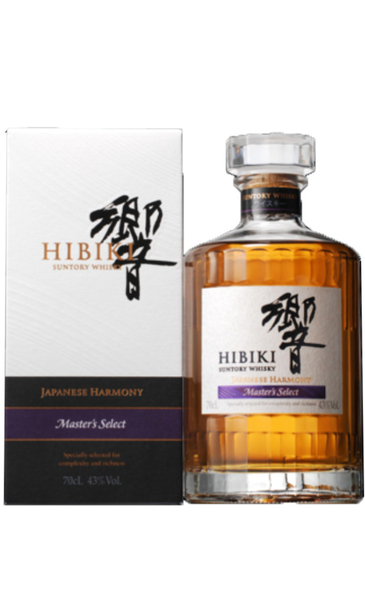 Hibiki Japanese Harmony Master's Select 700ml w/Gift Box
Hibiki Japanese Harmony Master's Select 700ml w/Gift Box

$228.00

$283.50
FREE next-day delivery
Description
Luminous and delicate with a transparency that unveils complexity. An exclusive limited edition of Hibiki Japanese Harmony featuring hints of Yamazaki Sherry Cask.
Hibiki means resonance in Japanese. It speaks to the soul and emotions of the most discerning whisky lover. Hibiki resonates from nature and all the subtleties found from the twenty-four seasons of the old Japanese lunar calendar.
---
Expert Review
"Color: Amber

Nose: Plum in syrup, roses, a sweet woodiness

Palate: Orange marmalade, dark chocolate, a slight bitterness

Finish: Lingering sweetness and acidity, spices and wood"
---
Reviews From Real Customers
Ben
Outstanding Japanese Whisky
6 Apr 2018
As far as Japanase whisky goes, this one sets a gold standard. Very smooth on the palate and a nice sweetness. Just easy to drink. I would recommend this as good introduction to Japanese whisky
Mun Kid
Great Taste
16 Aug 2018
I am new to Japanese whisky but in particular for Hibiki, I like the finishing taste of the oak. Taste very balanced overall.
Chee Seng
Light, fruity, smooth, easy going
17 Mar 2019
Light, fruity, smooth, easy going. Lack a stronger and lingering after taste. A good drink and a good representation of Japanese whisky. First bottle to empty in any given occasion.
KC
Very good whisky
12 Aug 2018
Very good whisky, complex, reasonably intense, fruity, some plum flavor, sweet, typically "oriental", only faintly smoky, just bit spicy, a bit bitter after taste, overall, great for general enjoyment if one is not after special character.
Said
Good but not enough for those looking for stronger aroma
6 Aug 2018
I'm new to Japanese, so this is from a beginner perspective. It's smooth and pleasant on palate but doesn't offer much for the nose. I still prefer Scotch any day. Can be a good light whisky for beginners-to-whisky.