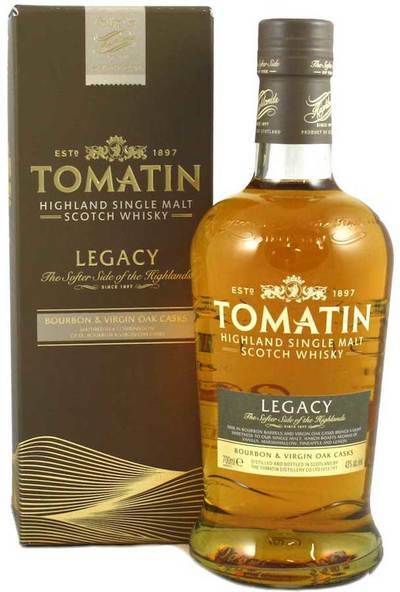 Tomatin Legacy 1L w/Gift Box
Tomatin Legacy 1L w/Gift Box

$182.90

$201.19
FREE next-day delivery
Description
When Tomatin Distillery was established in 1897, the isolated and idyllic setting of Tomatin was almost perfect. However there wasn't a local workforce; the local inhabitants were scattered shepherds and cattle drovers. The company began a project of construction to accommodate its workforce. Since that time the distillery has been at the heart of the community and the community at the heart of the distillery. This legacy has continued and Tomatin remains one of the few distilleries to provide a home for its dedicated craftsmen.
---
Expert Review
"Time in Bourbon barrels and Virgin Oak casks brings a light sweetness to The Tomatin Legacy, which boasts aromas of vanilla, marshmallow, pineapple and lemon. On the palate gentle flavours of candy, pine, lemon sherbet, apples and sponge cake emerge ahead of a light, clean finish."
---
Distillery
"Tomatin distillery is a single malt Scotch whisky distillery in the village of Tomatin. It was established next to the small village with the same name, about 15 miles south of Inverness
The core range includes as well the classic Tomatin style with its unpeated Single Malts as also a new peated line called Cù Bòcan."
---