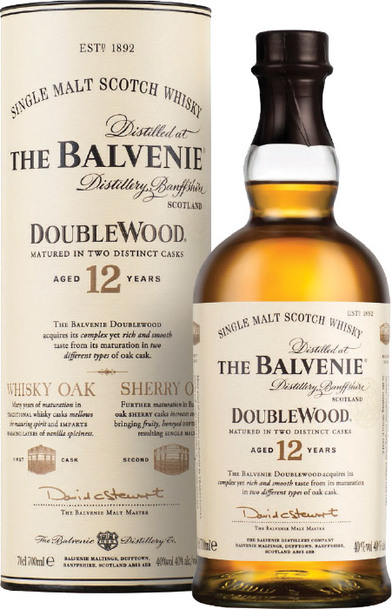 Balvenie 12 Year Double Wood Single Malt 700ml w/Gift Box
Balvenie 12 Year Double Wood Single Malt 700ml w/Gift Box

$94.95

$118.00
FREE next-day delivery
Description
The Balvenie DoubleWood 12 year old single malt whisky gains its distinctive character from being matured in two wood types.
To make The Balvenie DoubleWood, David Stewart MBE takes whisky that has spent at least 12 years in traditional whisky casks, American Oak ex-bourbon barrels and hogsheads, and moves it to Spanish oak ex-Oloroso sherry casks for an additional nine months.
The whisky is then transferred to large oak vessels called "tuns" for 3-4 months to allow the whiskies to "marry".
Each stage lends different qualities to the resulting single malt whisky. The traditional casks soften and add delicate character, the sherry wood brings depth and fullness of flavour and the final few months in our tuns allow the whiskies to marry harmoniously.
---
Tasting Notes
Long and warming.

Smooth and mellow with beautifully combined flavours – nutty sweetness, cinnamon spiciness and a delicately proportioned layer of sherry.

Sweet fruit and Oloroso sherry notes, layered with honey and vanilla.
---
Awards
2020

Gold

International Spirits Challenge - Distillers' Single Malts 12 years and under

2019

Silver

International Spirits Challenge - Distillers' Single Malts 12 years and under

2019

Bronze

International Wine & Spirit Competition - Scotch Single Malt - Speyside
---
Expert Review
"The sherry wood brings additional depths of flavour."
---
Distillery
The Balvenie Whiskies have a definite distillery character, all the whiskies are sweet with honey and vanilla notes. This distillery character is then nicely combined with flavours of different casks. The marriage of fruity flavours with the honey and vanilla makes Balvenie a typical Speyside distillery. The core range is large with the 12 years Double Wood as their leading Whisky, and the core range goes up to the 30 year-old. These Whiskies become even better as the sweet and soft tones are complemented with oak and darker flavours like leather or cigars.
---