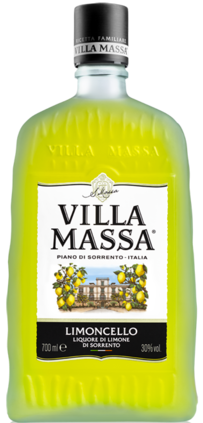 Villa Massa Limoncello 1L
Villa Massa Limoncello 1L

$74.95

$96.00
FREE next-day delivery
| | |
| --- | --- |
| Alcohol percentage | 30.0 |
| Bottle volume ml | 1000ml |
| Brand | Villa Massa |
| Gift box | No |
| Country of origin | Italy |
Description
A symbol of Sorrentine gastronomy, a Campanian product par excellence and a Mediterranean masterpiece that is known and loved all around the world. This is limoncello, also known as limoncino, a sweet liqueur that was invented at the end of the nineteenth century as an alcoholic drink, made by skilfully blending lemons, sugar, water and alcohol together.
Limoncello is a natural artisanal product -- made by infusing the peels of Sorrento Oval PGI lemons, before adding water and sugar. This powerful and unique raw ingredient, which has its luscious fragrance infused into the alcohol, with a natural, traditional and simple production process, make Sorrento's traditional limoncello a symbol of Neapolitan food and drink.
Limoncello can be enjoyed on many family occasions and with friends, usually enjoyed as a refreshing digest if served in a chilled shot glass after meals, which is a stylish source of inspiration for everyone who loves great food! However, that authentic Mediterranean flavour, the quality of the basic ingredients and its refined style mean that Villa Massa offers novel ways of appreciating limoncello, for the preparation of elegant cocktails that can include creatively rearranged Mediterranean flavours.
---
Expert Review
"Villa Massa's Limoncello has a distinct colour - a vibrant green with hints of bright yellow and white which is the result of a long infusion process that enables the lemon's bright yellow pigment to naturally infuse into the liquor. When you taste Villa Massa, you immediately discover its unique fragrance of the lemon. It tastes so intense and refreshing that it transports you immediately to a lemon grove with views out over the Gulf of Naples. Its natural flavour delicately cleanses the palate, creating the perfect balance between the acidic lemony notes, the sweet notes and the alcoholic base. The traditional way to enjoy limoncello is chilled to -7° in a chilled shot glass. However, you can also get a sense of the superior quality of Villa Massa by tasting it at room temperature, or by using it in Mediterranean-style cocktails ."
---