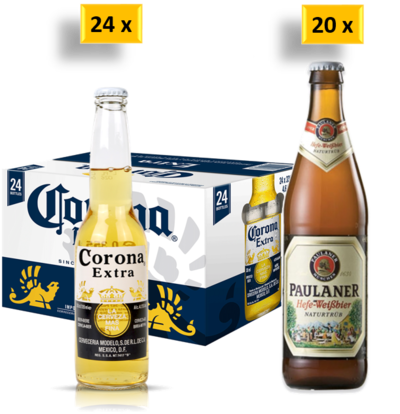 Germany vs Mexico
Description
Two powerful nations for football. We pit two styles against each other. The #1 German wheat beer against the #1 selling beer in Mexico
Corona is an easy drinking pale lager. It's the type of beer you can drink all day long and never tire. With or without a lemon wedge.
Paulaner Hefe-Weissbier is a wheat beer. If you've never tried this style of beer, you're in for a treat.
Included in This Bundle
1 x 20 x Paulaner Hefe-Weissbier Beer Bottle Case

500ml

Out of Stock

Naturally cloudy and shining silky gold in the glass under a really strong head of foam. At the f...

1 x 24 x Corona Beer Bottle Case

354ml

24 bottle case. Born in Mexico and brought up on the beach, Corona is the perfect compliment t...
---