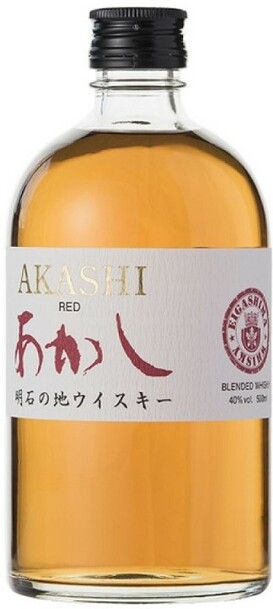 Akashi Red 500ml
Akashi Red 500ml

$54.95

$65.00
FREE next-day delivery
Description
This is a blended of malt and grain whiskies. It has the name simply due to the color of the label.
Eigashima Shuzo Co. Ltd. is one of the oldest family-run distillery with nearly 100 years of whisky-making experience in Japan. Established in 1679, Eigashima was once considered among the top 100 Japanese corporations during the Meiji period (the peak era in Japanese history).
Eigashima has been making sake and shochu with Japanese traditional craftsmanship since 1888, and as the first distillery to obtain a license to make whisky in Japan in 1919, is a true pioneer in its field. Known for its clean air and water, the city of Akashi is located in close proximity of Osaka, which overlooks the beautiful Seto Inland Sea; Akashi is the only distillery in Japan situated by the sea. With the translated "HONESTY" as the company motto throughout the centuries, Eigashima's ninth generation leader, Mr. Hiraishi has uncompromising standards for each drop of it's products.
It releases its whisky under the name "White Oak".
---
Expert Review
"Light and fruity whisky with notes of peach, almond and grape."
---