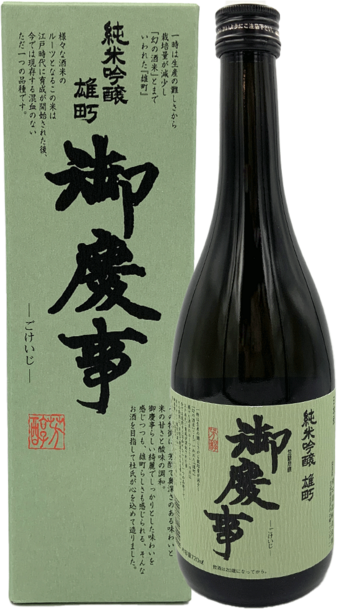 Aoki Gokeiji Junmai Ginjo Omachi 720ml w/Gift Box
Aoki Gokeiji Junmai Ginjo Omachi 720ml w/Gift Box

$63.95

$72.00
FREE next-day delivery
Description
Aoki Gokeiji was established in Furukawa in Tenpo 2nd year (1831) in the era of the eleventh generation Shogun's house where the Watarase River in the western part of Ibaraki Prefecture and Tone River currently intersect and it has continued to produce sake with a sharp Kanto-favored taste.
It was named "Gokeiji" in the sense of the "highest happy event" by the third generation head of the family with the wish for the prosperity of the imperial family and the prosperity of Japan.
"Gokeiji" uses Ibaraki prefecture's favorable sake-brewing rice (Hitachi Nishiki) prefectural yeast Ibaraki brand rice (Fukumaru) and so on.
---