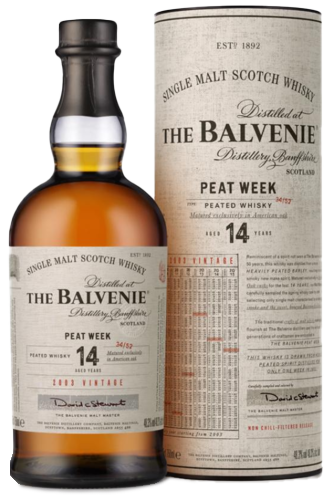 Balvenie Peat Week Aged 14 Year Old - 2003 Vintage Single Malt 700ml w/Gift Box
Balvenie Peat Week Aged 14 Year Old - 2003 Vintage Single Malt 700ml w/Gift Box

$188.00

$215.00
FREE next-day delivery
Description
The Balvenie Peat Week Aged 14 Years (2003 Vintage) is the result of trials undertaken in 2001 by The Balvenie Malt Master David C. Stewart MBE and our former distillery manager Ian Millar.
At a time when few Speyside distilleries were using peat in production, The Balvenie decided to distil a batch of heavily peated malt, which was laid down to mature at the distillery in Dufftown, Scotland.
Ever since then we've dedicated one week each year, named Peat Week, to using 100% Highland peat to dry our barley. Instead of coastal elements of iodine, salt and medicinal characteristics so commonly associated with Islay peat, Highland peat imparts earthy, woody smoke notes. This means that even though Peat Week is made using heavily peated malt (30ppm) it has an unexpected sweetness deeply rooted in the Speyside regional character.
The Balvenie Peat Week Aged 14 Years (2003 Vintage) is a single vintage bottling, limited and rare by nature. This non-chill filtered expression is bottled at 48.3% ABV and matured solely in American Oak casks, providing a velvety and round taste with woody peat smoke balancing oaky vanilla and honey.
This is a Paneco.com exclusive!
---
Tasting Notes
Gentle smoke with a lingering and creamy vanilla sweetness.

Velvety and round to taste with the peat smoke balancing citrus flavours, oaky vanilla and blossom honey.

Gentle sweet peat smoke, lighter floral notes and delicate butterscotch honey.
---
Expert Review
"The Balvenie distills a batch of peated malt, resulting in a whisky rich in honey, vanilla and citrus notes with an extra layer of delicate smokiness."
---