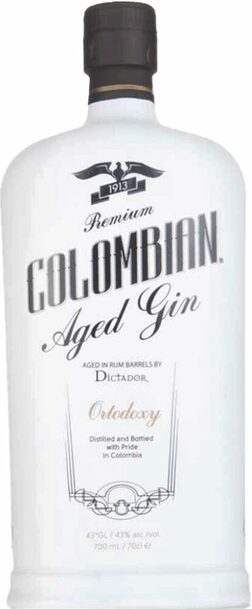 Dictador Colombian Aged Gin - Ortodoxy 700ml
Dictador Colombian Aged Gin - Ortodoxy 700ml

$89.95

$112.00
FREE next-day delivery
Description
An oak aged gin from the makers of Dictador rum. Colombian gin goes into used rum barrels which add extra smoothness to the spirit making it incredibly soft and easy to drink. This Rum was created after Dario Parra, former president of Dictador, paid a visit to the UK and was so impressed by what he called 'God's Drink'.
Upon his return, he got to work on creating his own Colombian Gin. Originally only produced for his personal consumption the quality of this gin enabled it to become an international hit!
---
Tasting Notes
Light and body, proof of its quality and clarity

Displays a balance of the bitterness of the roots, the freshness of the botanicals, the sweet and sour of berries and peels, and the warmth of the spices

Flavourful, smooth, yet sweet and sour with the astringency of classic gin. At 43 per cent alcohol, this gin mixes well with a wide range of tonics.
---
Awards
2017

Bronze

International Wine & Spirit Competition - Gin - Contemporary Styles

2019

Bronze

International Spirits Challenge - Barrel Aged
---