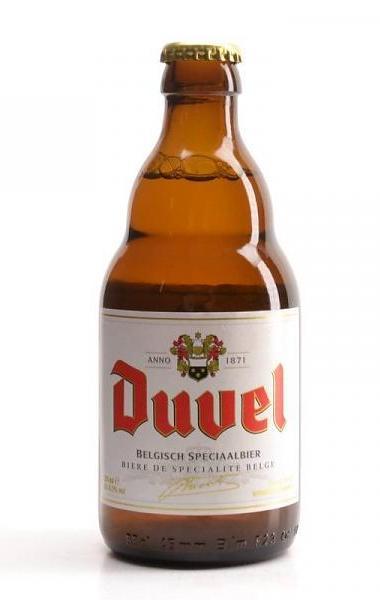 24 x Duvel Beer Bottle Case
24 x Duvel Beer Bottle Case

$132.00

$161.00
| | |
| --- | --- |
| Alcohol percentage | 8.5 |
| Bottle volume ml | 330ml |
| Brand | Duvel |
| Country of origin | Belgium |
| Gift box | No |
Description
24 bottle case of fine Belgian Beer.
Duvel is a natural beer with a subtle bitterness, a refined flavour and a distinctive hop character. The unique brewing process, which takes about 90 days, guarantees a pure character, delicate effervescence and a pleasant sweet taste of alcohol.
Apart from pure spring water, which is the main ingredient of beer, barley is the most important raw material. Barley must germinate for five days in the malt house, after which malt remains. The colour of the malt and as a consequence also of the beer is determined by the temperature. Duvel obtains its typical bitterness by adding various varieties of aromatic Slovenian and Czech hops.
Duvel ferments for the first time in tanks at 20 to 26°C. The brewer uses his own culture for this. The original yeast strain, which Albert Moortgat himself selected in the 1920's, originates from Scotland. After maturing in storage tanks in which the beer is cooled down to -2°C, the drink is ready for bottling. Thanks to the addition of extra sugars and yeast, the beer ferments again in the bottle. This occurs in warm cellars (24°C) and takes two weeks. Then the beer is moved to cold cellars, where it continues to mature and stabilise for a further six weeks. This extra long maturation period is unique and contributes to the refined flavour and pure taste of Duvel.
A team of beer specialists checks the process daily by means of taste analyses. It is only after 90 days, when it has achieved its rich range of flavours, that Duvel may leave the brewery.
Expert Review
A Duvel is ready to drink if it has been chilled in the refrigerator to the ideal temperature of about 5°C. Another equally important factor is a clean, dry Duvel glass at room temperature.
Leave about 1 cm of beer in the bottle. This contains the yeast which can make the beer rather cloudy and bitter.
---