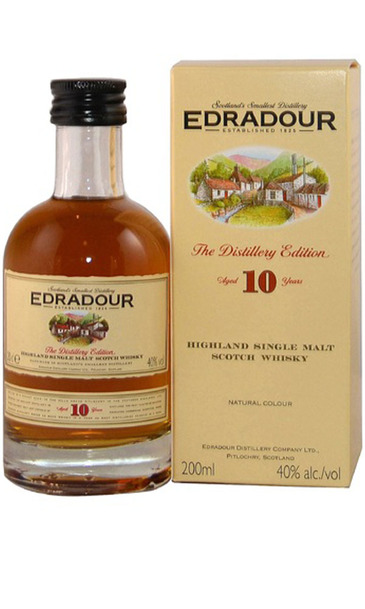 Edradour 10 Year 200ml w/Gift Box
Edradour 10 Year 200ml w/Gift Box

$35.00

$45.00
FREE next-day delivery
Description
Hidden in the very heart of Perthshire, this picturesque 'little Model Village' of Edradour is steeped in a history of intrigue to inspire the imagination. And, with matchless commitment to retaining authentic small scale production, Edradour uniquely boasts over 25 distinctive expressions of Highland Single Malt Scotch Whisky with their wonderful characters and flavours.
The ten year old Edradour is handmade and one of the last Single Malt Whiskies from a traditional farm distillery still in production today. The methods of production remain virtually unchanged in the last 150 years and are only just capable of commercial quantities. Indeed Edradour Distillery makes as much whisky in a year as most distilleries produce in a week. A rare pleasure for a fortunate few.
Aged in a combination of Oloroso Sherry and Bourbon casks. Chillfiltered at 40% ABV.
---
Expert Review
"Nose: Hints of dried fruits, Oloroso and almonds

Palate: Spicy Christmas cake, sweet golden syrup with a touch of honeyed almonds. A distinctive, old fashioned, rich mouth feel coming from the small copper farm stills

Finish: Oaky, soft spices, mellow and warming"
---