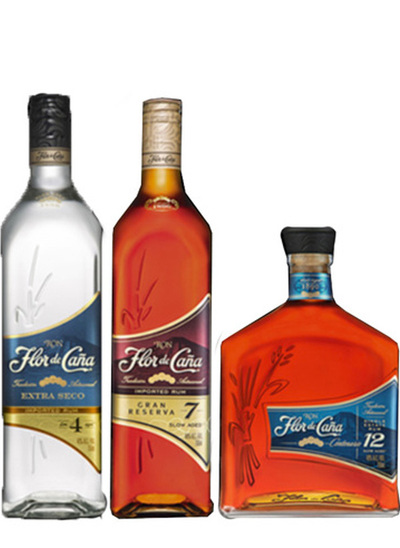 Flor de Caña Aged Collection 3 Bottle Gift Pack (3 x 375ml)
Flor de Caña Aged Collection 3 Bottle Gift Pack (3 x 375ml)

$86.50

$124.00
FREE next-day delivery
| | |
| --- | --- |
| Alcohol percentage | 40.0 |
| Bottle volume ml | 3 x 375.0ml |
| Brand | Flor de Caña |
| Gift box | Yes |
| Country of origin | Nicaragua |
Description
Flor de Caña is a naturally aged rum enriched by the unique properties of the San Cristobal volcano, the most active in Nicaragua. The fertility of its soil, the enriched volcanic water and the hot volcanic climate to which the barrels are exposed during the aging process contribute to Flor de Caña's singularly smooth and deliciously balanced character.
In 1890, Francisco Alfredo Pellas Canessa, along with the founders, began to celebrate the end of the agricultural harvest season with small quantities of aged rum. More than 125 years later, the entire production process continues under the supervision of the same family (five generations of mastery and family values), achieving perfection in rum making.
FLOR DE CAÑA 12 YEAR This reddish, 12-year-old amber ultra-premium rum is stately, elegant and semi-sweet. It's delicious neat, on the rocks or with a splash of water or soda. It won a Gold Medal in 2016 at the San Francisco World Spirits Competition. The Flor de Caña 12 Years is making history with its excellent elaboration.
FLOR DE CAÑA 7 YEAR GRAN RESERVA A 7-year-old, mahogany-hued, extra-smooth and full-bodied rum, recommended for sipping with sparkling water and a twist of orange or in the Flor Old-Fashioned cocktail, which is prepared with brown sugar, three to four drops of coffee bitters, a splash of sparkling water and two orange rinds.
FLOR DE CAÑA 4 YEAR ULTRA LITE A 4-year-old rum, with 28 degrees of alcohol/volume, this rum is light and crystal-clear, exceptionally smooth and intense in flavor and aroma. One of its main strengths is that it makes a great base for mix cocktails.
---
Expert Review
"This collection features three very different rums in smaller 375 ml variations."
---