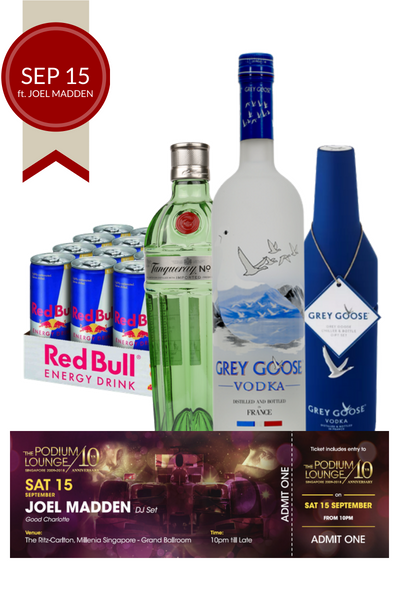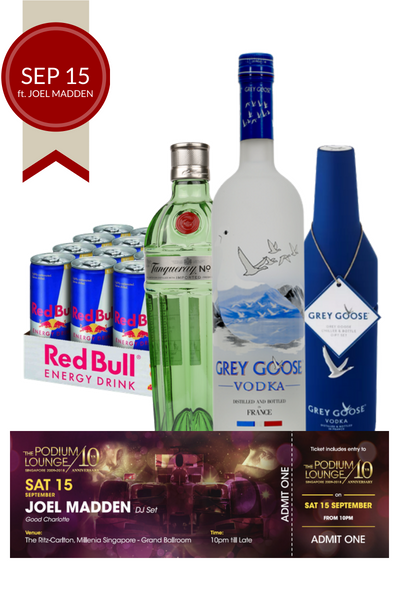 Race day Vodka, Gin and Red Bull Bundle plus 1 discounted ticket for Podium Lounge SATURDAY 15 Sep ft Joel Madden
Description
What's RACE DAY without Vodka, Gin and the iconic Red Bull? Quench your thirst with this cool bundle to show support for your favourite racers!

The Tanqueray Nº TEN that got its name from the stills of its origin is a gin that is made from fresh citrus fruits that definitely tastes the best with ice. Every sip would bring you to a fruity paradise for its refreshing citrusy experience.

To pair it up, we have the iconic Grey Goose vodka bundled together with the Tanqueray, and it even comes with a FREE limited edition chiller pack! The Grey Goose is a great favourite vodka among everyone for its soft sweetness that develops into a smooth, balanced texture alongside a tinge of almond, that envelopes the mouth.

The Red Bull? Needless to say, it gives you wings! It is a must-have for every festival, party, etc. Not only is it established as a great energy boost, it is a great mixer to have as well!

Joel Madden is not only the co-founder and frontman of the multi-platinum rock band Good Charlotte, but a pillar in the global music community both in front of, and behind the the scenes. Joel Madden is a multi-talented personality, actor, DJ and record producer.

As a fixture on The Voice in Australia for all five seasons he coached emerging talent and with his management company MDDN he works with a roster of high profile clients and exciting new acts. He has also featured in TV series 'Empire' a show based on musicians. Joel Madden also has a clothing line known as MADE Clothing which he started with his brothers

With a resume that spans over 20 years in entertainment, Joel Madden co-writes with some of the biggest names & producers and involvement in all facets of the culture, Madden is a lifer in the game.
Included in This Bundle
1 x 1 x Sat Discounted Tix 15/09 Podium Lounge w/ DJ Joel...

0ml

Out of Stock

SATURDAY 15 SEPTEMBER JOEL MADDEN DJ SET (Good Charlotte) Joel Madden is not only the co-foun...

1 x 24 x Red Bull Energy Drink Can Case

250ml

Vitalizes Body and Mind. Red Bull Energy Drink is a functional beverage providing wings whenev...

1 x Tanqueray No. Ten 700ml

700ml

Passion and attention to detail in perfect measure, is a recipe for exquisite results. Tanqueray ...

1 x Grey Goose 1L FREE Chiller Pack Special Ed.

1000ml Extra 33%

Get a FREE CHILLER PACK with this bottle of Grey Goose. Representing one of the original and m...
---