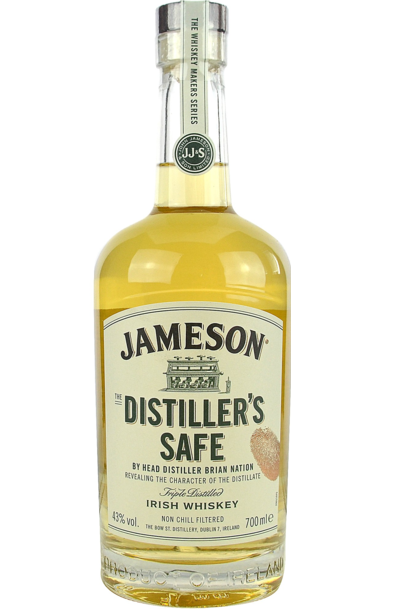 Jameson The Distiller's Safe 700ml w/Gift Box
Jameson The Distiller's Safe 700ml w/Gift Box

$108.00

$121.00
FREE next-day delivery
| | |
| --- | --- |
| Alcohol percentage | 43.0 |
| Bottle volume ml | 700ml |
| Brand | John Jameson |
| Gift box | Yes |
| Country of origin | Ireland |
Description
The secret behind our whiskey lies in the passion and dedication of our masterful craftsmen, our Head Distiller, Head Cooper and Head Blender. The Whiskey Makers Series celebrates them and their craft.
The Distiller's Safe is a whiskey that celebrates the craft of our Head Distiller, Brian Nation, and his mastery of the Irish Pot Still. The spirit safe is an instrument allowing him to sample what's going on inside the still, a confirmation of quality at every turn.
Delivering a smooth mouthfeel and gentle notes of apricot, cinnamon and melon, The Distiller's Safe pays respect to the character of the distillate. Long before barrels make their mark, a pot still has the first say.
"As a distiller, I wanted to capture the beauty and character of the distillates. I created a whiskey with the smooth mouth feel of pot still whiskeys, combined with the soft buttery sweetness and gentle fruit notes of grain whiskey." - Brian Nation, Head Distiller.
---
Expert Review
"Nose: From floral perfume, through fresh herbs, to lively spices, this special selection of distillates shows how the subtle delicate sweet notes of Irish grain whiskey can complement the more robust character of the Irish pot still whiskey. Barley Sugar sweetness combines with the succulence of grapefruit and green pepper, with a touch of marzipan adding to the depth.

Taste: Starts off with barley sugar sweetness, progressing to hints of cinnamon and even a touch of liquorice. A vibrant note of mandarin orange appears alongside the nuttiness of ground almond.

Finish: Stays light and zesty, with barley making a late appearance."
---