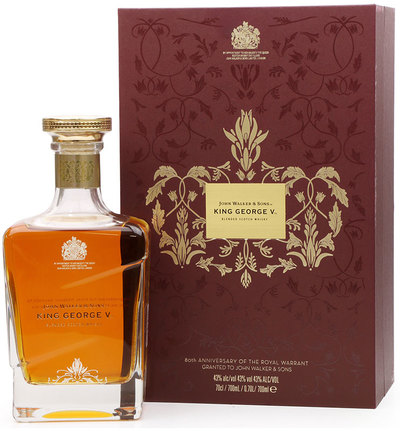 John Walker & Sons King George V Royal Warrant 80th Anniversary 700ml w/Gift Box
John Walker & Sons King George V Royal Warrant 80th Anniversary 700ml w/Gift Box

$785.00

$950.00
FREE next-day delivery
Description
An elegant, limited edition design of the award-winning John Walker & Sons King George V Blended Scotch Whisky has been made available exclusively to Paneco.com in Singapore.
The limited edition John Walker & Sons King George V pack has been crafted as a visual celebration of the arts and craft movement that blossomed during the 1930s and has a luxurious burgundy finish. It features an intricate motif and an elegant gold chandelier print, in keeping with the art deco style of the time, and sumptuous, warm colors used to emphasise the regal nature of the super-premium whisky.
In 1820, John Walker started out in business with a single small shop, but he always had big ambitions. Just over a century later, John Walker & Sons was awarded a Royal Warrant by King George V.
By then, Johnnie Walker was already well on its way to becoming the world's most popular Scotch Whisky. Becoming a supplier to the Royal Household was an important step on that journey.
John Walker & Sons King George V commemorates the granting of the Royal Warrant on 1 January 1934.
It is created using only the finest whiskies from distilleries that were operating during George's twenty-five-year reign (1910 – 1936), some of which, like the famed Port Ellen, no longer exist. They are blended together to reflect the distinctive Johnnie Walker style of the era.
---
Expert Review
"It is an opulent and regal blend. Sensuous, layered and intense, the John Walker & Sons King George V is a kaleidoscope of flavors and aromas. Hints of roasted nuts, dark chocolate and an imposing sweet smokiness combine elegantly with suggestions of honey, citrus orange and rose petals. This is an extremely complex luxury whisky.

Enjoy it in any way you like, but we recommend it neat. Pour a 1.5 oz measure into a bespoke snifter glass. Accompany with a tumbler of iced water. Freshen your palate with the water between sips to unlock the full experience."
---