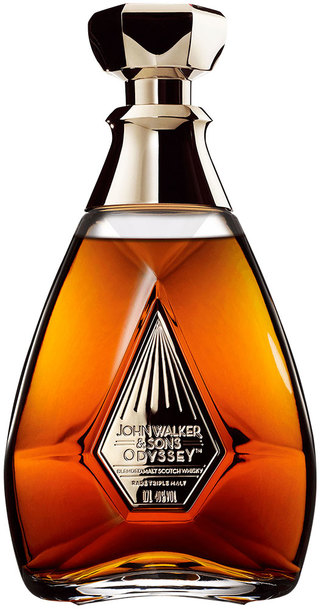 John Walker & Sons Odyssey 700ml w/Gift Box
John Walker & Sons Odyssey 700ml w/Gift Box

$1,388.00

$1,700.00
| | |
| --- | --- |
| Alcohol percentage | 40.0 |
| Bottle volume ml | 700ml |
| Brand | Johnnie Walker |
| Country of origin | Scotland |
| Gift box | No |
Description
This rare Triple Malt was created by Master Blender Jim Beveridge to evoke the aromas and sensations of this defining era.
He took as his inspiration the legendary Johnnie Walker 'Swing', created in 1932 by the founder's grandson, Sir Alexander Walker. He was a blender of extraordinary skill who handed down his detailed notes for future generations.
John Walker & Sons Odyssey is made from just three extraordinary Single Malts, carefully blended and married together in oak casks to enhance the intricate layering of flavours and impart an exquisite smoothness.
John Walker & Sons Odyssey is comes in an ultra-modern crystal grade glass decanter, presented in elegant and ingenious box that enables it to swing freely back and forth yet always remain upright.
This is in homage to the ingenious Johnnie Walker 'Swing' nautical decanter, which was designed to remain upright even as your ship pitched and rolled beneath you.
Expert Review
This elegant whisky has a deep and distinctive russet-red hue that hints at the rich tannins to come. With the first sip, toffee and honey emerge followed by cooked berries, roast walnuts and top notes of delicate citrus. The finish is sublime - an impeccable, rich smokiness that seems to linger forever.
Enjoy John Walker & Sons Odyssey in any way you like, but we recommend it neat. Pour a 45 ml measure into a bespoke whisky tumbler. Accompany with a glass of iced water. Freshen your palate with the water between sips to unlock the full experience.
---