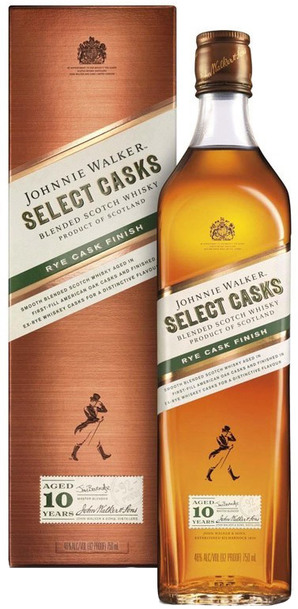 Johnnie Walker Select Cask - Rye Cask Finish 750ml w/Gift Box
Johnnie Walker Select Cask - Rye Cask Finish 750ml w/Gift Box

$98.80

$148.50
FREE next-day delivery
Description
Johnnie Walker Select Casks – Rye Cask Finish, the first in a series of limited edition wood-finished Scotch blends that will be released over the coming years.
Johnnie Walker Select Casks – Rye Cask Finish is a Scotch Whisky blend that showcases the best of Scottish blending and maturation expertise. With Cardhu single malt at the heart of the blend, Johnnie Walker's Master Blender Jim Beveridge used whiskies matured for at least ten years in first-fill American Oak casks to create this blend. He finished the Scotch in ex-rye whiskey casks, creating a complex new whisky with rich layers of flavor starting with creamy vanilla notes and transitioning to a spicier finish.
"From the early days when John Walker first blended whiskies in 1820 to the unique blends created today, Johnnie Walker has always thrived on experimentation. I believe that whisky is ever evolving and experimental in nature and I am pleased to present the first Rye Cask finished Blended Scotch Whisky" said Master Blender Jim Beveridge. "Johnnie Walker Select Casks is a unique style of Scotch that blends the flavor characteristics of bourbon and rye with some of the classic signature notes and smoothness of Johnnie Walker Scotch Whisky.
---
Expert Review
"Enjoy Johnnie Walker Select Casks – Rye Cask Finish is meant to be enjoyed neat, over ice or in a classic cocktail such as an Old Fashioned.

The newest whisky from Johnnie Walker offres rich layers of flavour - vanilla notes with a spicier finish. Blended with Cardhu single malt at the heart of this whisky, aged for at least 10 years in a first-fill American Oak barrels and finishing in American Rye barrels, this creatqion of Johnnie Walker resembles American Rye whiskies with the famous smoothness of Johnnie Walker Scotch."
---