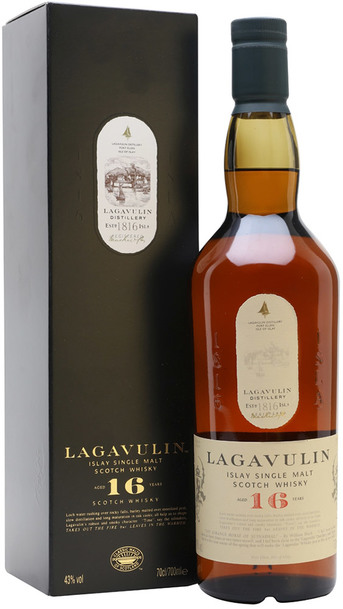 Lagavulin 16 Year 700ml w/Gift Box
Lagavulin 16 Year 700ml w/Gift Box

$115.00

$138.00
FREE next-day delivery
Description
Single malt whiskey, from the island Islay in Scotland. The whiskey is aged for 16 years in oak barrels that were previously used to age sherry, and offers highly dominant smoky and peaty flavors. Lagavulin 16 is the main component in the Johnnie Walker Red blend.
---
Expert Review
"Lagavulin distillery is located on the island Islay in south-west Scotland – one of the five whiskey production regions in the country. Today there are 8 active distilleries on the island. Due to the richness in seaweed and peat in that region, combined with its unique stormy weather, the whiskey style is characterized as smoky, peaty, with a very strong and rich flavor."
---
Reviews From Real Customers
Chyi Jieh Tom
Complex smells and flavors, not for the faint hearted
24 Nov 2018
If you find the Macallans enjoyable and the Glenfiddichs smooth, this is nothing like that. The Lagavulin 16 is a complex whisky, smoky and peaty and smells of bbq charcoal and burnt barley. The whisky however, tastes better than it smells. There are subtle citrus notes as it goes down and lingering smoked barley in the aftertaste.
The Lagavulin 16 is very rich and powering, particularly if you like the smokey, peaty type of whisky. Worth a try if you want something different from the norms.
Try watering down 3 drops (best) or 5 to 6 drops tops. You can smell very light vanilla sweetness between 3 to 6 drops. More than that, the sweetness starts to fade. The most intense flavors from tasting come with 3 to 4 drops of water. Let the whisky linger in your mouth for 10 - 15 secs and you can experience the change in flavors.