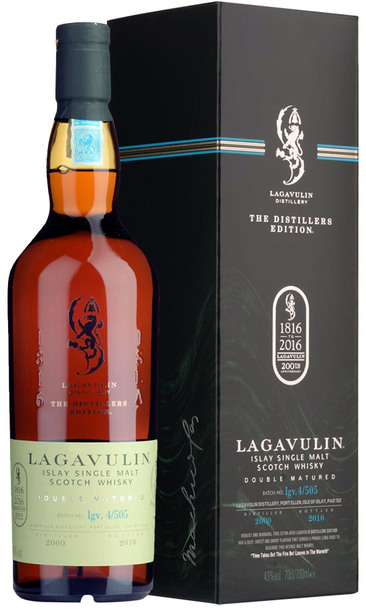 Lagavulin 2000 Distillers Edition (Double Matured) 200th Anniversary Ed. Single Malt Scotch Whisky 1L w/ Gift Box
Lagavulin 2000 Distillers Edition (Double Matured) 200th Anniversary Ed. Single Malt Scotch Whisky 1L w/ Gift Box

$238.00

$284.29
FREE next-day delivery
Description
Each Distillers Edition expression undergoes a second (or 'double') maturation in casks that have previously held a fortified wine.
A really distinctive and distinguished dram, full of peat while the Pedro Ximinez sherry wood naturally has a big say; A more mellow Lagavulin, not quite as deep or intense as the 16 year old.
This scotch comes from batch 505. It was distilled in 2000 and bottled in 2016.
---
Expert Review
"Appearance: Golden Treacle

Nose: Intense peat and vanilla. A raisin sweetness checks the smoke. Iodine-edged peat and crisp, roasty malt. Satisfying and enticing.

Body: Full and rich.

Palate: Sweet and luscious; a clear, grassy malt, then the peat attacks, smoke filling the mouth. A very salty tang at one point; the middle offers coffee and vanilla with a glimmer of fruit.

Finish: Incredibly long, even for Islay. Fruit, peat and long-lasting oak. Very chewable and "more-ish".

With Food: Works in an extraordinary way with intensely flavoured salty blue cheeses – Roquefort, Stilton, Gorgonzola and Lanark Blue. Also excellent with anchovies on toast."
---