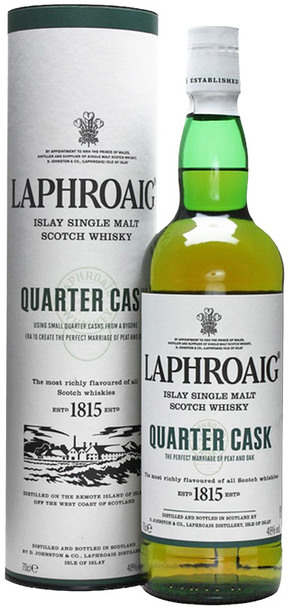 Laphroaig Quarter Cask 700ml w/Gift Box
Laphroaig Quarter Cask 700ml w/Gift Box

$107.00

$141.00
FREE next-day delivery
Description
Laphroaig Quarter Cask offers an irresistible doubling of flavour, due to the double maturation in two barrels made of American oak. Still-maturing whisky from our standard ex-bourbon barrels is transferred to quarter casks and left to rest in our warehouse just a stone's throw from the Atlantic shore.
This process represents Laphroaig breathing new life into a once-defunct tradition: the use of the smaller cask size, which ensures increased contact with the oak, creating a soft and velvety edge to complement Laphroaig's distinctive peatiness.
On the nose the sensation is toffee and caramel, caused by the vanillas and tannins of the American oak, plus a dryness from the wood oil. The finish is long and alternates between this sweetness and smoke.
---
Expert Review
"Colour

Full sparkling gold

Nose

Burning embers of peat in a crofters fireplace, hints of coconut and banana aromas

Body

Full bodied

Palate

Deep, complex and smoky yet offers and surprises the palate with a gentle sweetness

Finish

Really long, and dries appropriately with smoke and spice"
---
Distillery
"Laphroaig distillery is named after the area of land at the head of Loch Laphroaig on the south coast of the island of Islay.
Laphroaig has been the only whisky to carry the Royal Warrant of the Prince of Wales, which was awarded in person during a visit to the distillery in 1994. The distillery identifies Charles by his title of Duke of Rothesay, as he is recognised in Scotland. The 15-year-old is reportedly the prince's favourite Scotch whisky."
---