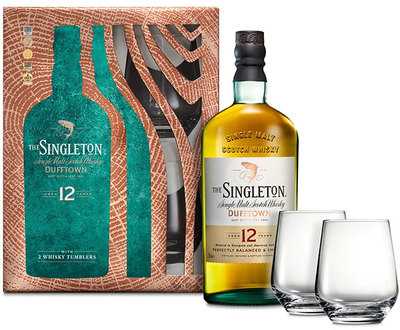 Singleton of Dufftown 12 Year 700ml with 2 Glasses
Singleton of Dufftown 12 Year 700ml with 2 Glasses

$85.80

$97.50
FREE next-day delivery
Description
The 12 year smooth, naturally rich Single Malt Scotch Whisky has sweet fruity notes and a lingering, pleasurable warmth. It is matured in European and American Casks and monitored closely by the experts at Dufftown to ensure the consistency of the flavours.
The bundle comes with 2 whisky tumblers for you to share the smooth scotch whisky.
---
Expert Review
""A straightforward, nutty and malty single malt from Speyside, the Singleton of Dufftown was released to replace the Singleton of Auchroisk.""
---
Distillery
The Singleton of Glen Ord is a whisky distillery in the Scottish Highlands and is the only remaining single malt scotch whisky distillery on the Black Isle.
They produce a 12 year old, 15 year old and 18 year old single malt that's available for export only to Southeast Asia. The Singleton of Glen Ord has also just publicized a cask strength (57.6%avb) 14 year old limited release that's been triple matured in five different casks.
The distillery won awards for the best single malt at the International Wine and Spirit Competition in 1994 and 1996, and at the Monde Selection in 1996 and 1997. However, IWSC and Monde Selection awards are non-competitive and only products that pay to enter are judged.
---