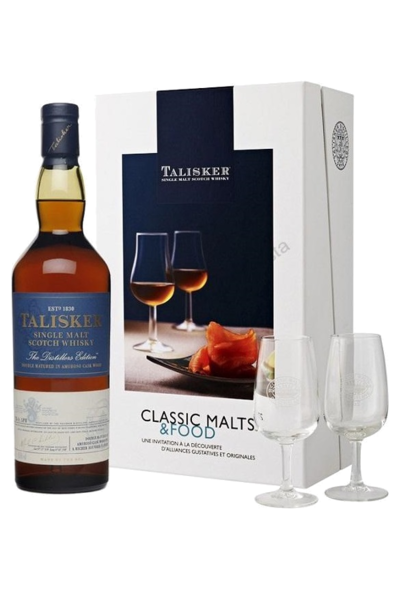 Talisker Distillers Edition 700ml Gift Pack with 2 Glasses
Talisker Distillers Edition 700ml Gift Pack with 2 Glasses

$133.80

$161.33
| | |
| --- | --- |
| Alcohol percentage | 45.8 |
| Bottle volume ml | 700ml |
| Brand | Talisker |
| Country of origin | Scotland |
| Gift box | Yes |
Description
Talisker distillery is an Island single malt Scotch whisky distillery based in Carbost, Scotland on the Isle of Skye. The distillery is currently operated by Diageo. The distillery was founded in 1830 by Hugh and Kenneth MacAskill, who leased the Talisker House from Clan MacLeod and eventually converted it into a distillery. Talisker Single Malt Whisky is made from malted barley sourced from the Muir of Ord, a village in Highland, Scotland. The barley is lightly peated which gives it the smokey toasty smell and presence in the mouth.
Talisker Distiller's Edition 2015 Single Malt Scotch Whisky was distilled in 2005 and matured for ten years in used, American bourbon casks, then it was double-barreled, or finished, in casks that were previously used to mature Amoroso sherry, which give it that nice dark chocolate salty sweetness.
Expert Review
Nose: Lots of smoke and dusty saw wood. Some sherry and citrus bananas and fruits are present as well. As with all Talisker's there is a whiff of salty air about it, that mixes together and creates one of the most complex noses I have smelled. Very interested. Swirling the whisky around in the glass opens up to iodine as well.
Palate: Fruits, Vanilla and Dark Cocoa chocolate. Some more smoke but not as strong as it is on the nose.
Finish: Sea salt and coastal finish, short to medium, doesn't really linger on the tongue.
---